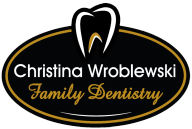 Welcome to Christina Wroblewski Family Dentistry
Your Dentist in Anderson, IN.
Would you like to improve your smile?
Call us at 765.644.1000 today
Christina Wroblewski can help you to achieve the smile of your dreams with implant restorations, single crown visits, tooth-colored fillings and teeth whitening. She uses state-of-the-art equipment and instruments. For the safety of her patients, Dr. Wroblewski and her staff follow the strictest industry standards for sterilization.
Are you afraid of the dentist? There's no need to be!
Our practice is dedicated to quality dentistry in a gentle, comfortable and friendly atmosphere. Your safety and comfort are of the utmost priority of our entire dental staff. *Nitrous oxide is also available.
Our Approach to Dental Care
Our one-on-one approach to dentistry, in addition to advanced dentistry services and stunning results we consistently achieve, make Dr. Christina Wroblewski and the Christina Wroblewski staff the dentistry team of choice in the Anderson, IN area. We offer all of the most popular dental treatments, including preventative exams, restorative care, cosmetic procedures, Botox® and Juvederm®. For a more complete transformation, our patients are encouraged to work with our experienced Anderson dental professionals to combine multiple treatments for a complete smile makeover.
Get Started Today
If you are ready to work with our professional dental team to achieve the smile you have always dreamed of, or are looking for a comprehensive dental cleaning and examination, we invite you to contact the Christina Wroblewski-Madden DDS team at 765.644.1000. We look forward to helping you smile brighter.
Click here to schedule your appointment: